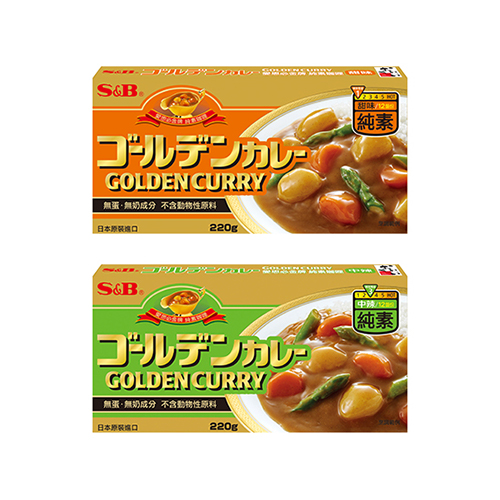 "Golden Curry" is made with S&B original curry powder and features rich aroma of spices and herbs. It is long-loved by many customers worldwide since its introduction.
A block of Golden Curry Sauce Mix consisting of curry powder, flour, spices and seasoning could quickly transform mundane stew into fine curry simply by adding them to the mixture. S&B Golden Curry Sauce Mix for vegetarians does not contains meat derived ingredients, onion and garlic. This product is designed for vegetarian people who would like to avoid animal ingredients, onion and garlic.
Enjoy with rice, bread, noodles, and buns, etc. Using it as a sauce for potatoes or meat dishes, or as a dipping sauce for steamed vegetables is another way to enjoy.
Golden Curry Sauce Mix Mild for Vegetarians 220g (Only for Taiwan)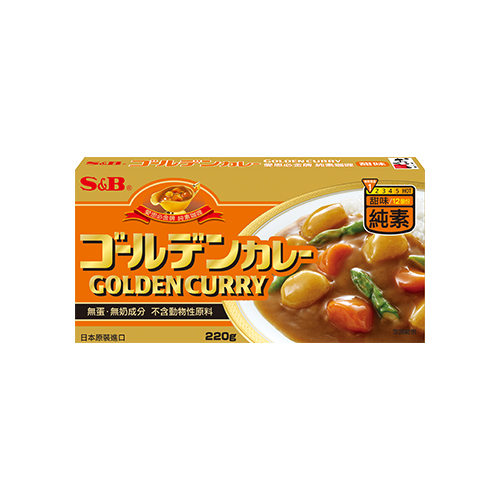 JAN/UPC Code

4 901002 102012
Ingredients
Wheat Flour, Vegetable Oils (Palm Oil, Rapeseed Oil), Sugar, Salt, Curry Powder (Turmeric, Coriander, Cumin), Flavor Enhancers (Monosodium Glutamate, Disodium Guanylate, Disodium Inosinate), Caramel Color, Spices (Pepper, Celery Seed, Mustard), DL-Malic Acid
Nutrition Facts
| Nutrition Facts | Amount/Serving (18.3g) | Per 100g |
| --- | --- | --- |
| Energy | 90kcal | 486kcal |
| Protein | 1.2g | 6.6g |
| Fat | 5.3g | 27.4g |
| - Saturated Fat | 3.1g | 16.6g |
| - Trans Fat | 0g | 0g |
| Total Carbohydrate | 9.4g | 53.3g |
| - Sugars | 1.5g | 12.0 g |
| Sodium | 814mg | 4260mg |
Golden Curry Sauce Mix Medium Hot for Vegetarians 220g (Only for Taiwan)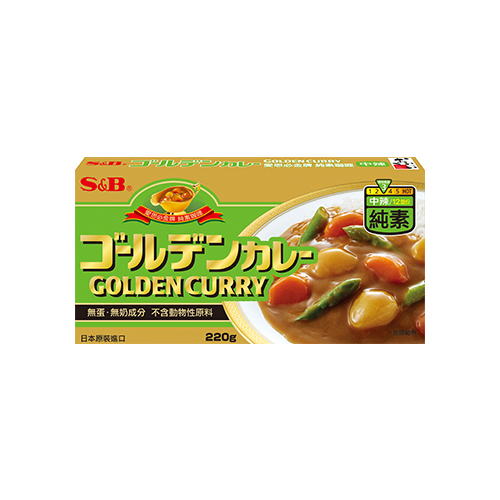 JAN/UPC Code

4 901002 102029
Ingredients
Wheat Flour, Vegetable Oils (Palm Oil, Rapeseed Oil), Salt, Sugar, Curry Powder (Turmeric, Coriander, Cumin), Flavor Enhancers (Monosodium Glutamate, Disodium Guanylate, Disodium Inosinate), Caramel Color, Spices (Pepper, Chili Pepper, Celery Seed, Mustard), DL-Malic Acid
Nutrition Facts
| Nutrition Facts | Amount/Serving (18.3g) | Per 100g |
| --- | --- | --- |
| Energy | 87kcal | 469kcal |
| Protein | 1.2g | 6.6g |
| Fat | 4.8g | 24.8g |
| - Saturated Fat | 2.8g | 15.0g |
| - Trans Fat | 0g | 0g |
| Total Carbohydrate | 9.8g | 54.9g |
| - Sugars | 1.8g | 9.3g |
| Sodium | 816mg | 4040mg |