May 08, 2017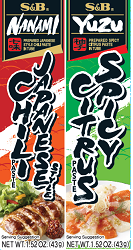 The 2 new spice paste products are launched!

The Japanese style Chili Paste! We created a paste form of Japanese seven spice. Enjoy spicy flavor of red chili pepper, fresh flavor of yuzu and texture of sesame of this Japanese condiment. Use for Japanese foods such as Udon, Ramen, Chinese foods like dumpling and Mead & Fish dishes.

The Spicy Citrus Paste! Very popular Japanese condiment brings fresh flavor of Yuzu citrus and sharp spiciness of green chili pepper. Use for various foods such as Sushi, Yakitori, dumpling, carpaccio, sandwiches and grilled meat & fish.

Both products will add a kick and refine your ordinary meals!