Feb 13, 2017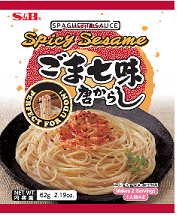 The new flavor of spaghetti sauce, Spicy Sesame, will be launched!

It has rich taste using sesame paste and ground sesame, and assorted chili pepper of topping gives a bit of spiciness. This Japanese-inspired sauce is also perfect for Udon!

It is very easy to cook, just mix the sauce with cooked noodles and sprinkle the topping, so add this in your daily recipes!