Quality and Customers' satisfaction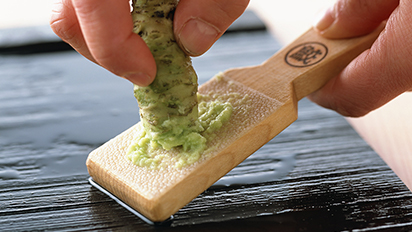 We, S&B FOODS, value the high-quality image of wasabi which has becomes Japanese food culture. We never compromise with raw materials to be used to respond to consumer's expectation for safety and security to food, and use wasabi japonica/horseradish that meet the company's standards. At the same time, we perform thorough quality control to maintain peak freshness.
We have also improved the flavor, pungency and raw materials to use to satisfy customers around the world. For instance, we have introduced gluten-free wasabi as well as wasabi and wasabi sauce without food coloring additives to meet the expectation of our customers.
Tube Packaging ~First company to offer wasabi paste in tube~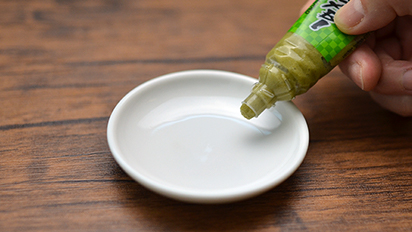 S&B introduced first condiments in plastic tube including wasabi paste in the early 1970's. Since then, these kinds of condiments in tube has been penetrated Japan and become one of the unique food culture in Japan. We have been improving even our product package, and now, we have developed a new tube material that allows you to effortlessly enjoy the product.
Features of S&B's tube packaging materials!
Easy-to-open Cap!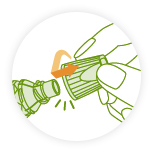 The cap is easy to grip, easy to open and close. We have been caring to reduce the influence on the environmental by reducing the weight.
Easy-to-squeeze Tube!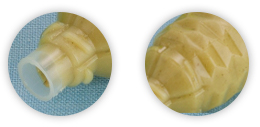 The tip of the tube becomes easier to squeeze by softer material and technological innovation so that it can serve nearly all of the contents.
Product Types
S&B FOODS offers 3 types of wasabi products by usage.
Wasabi Paste

Grated wasabi is mixed with salt, vinegar, oil and other seasonings before being packaged in a tube. Simply squeeze out desired amount to enjoy the authentic taste of wasabi at any time.

Wasabi Powder

Dried wasabi powder requires only a little cool or warm water to make thick paste. This type of wasabi is generally has a longer shelf life.

Wasabi Sauce

With the consistency of sauce, wasabi sauce is mild and pleasantly sour. It is good for a variety of dishes, imparting a zesty appeal of wasabi without the strong nose-tingling kick.