At S&B Foods, we formulate the S&B Foods Mission (key issues) based on the external environment affecting our business.
While carrying out the Second Medium-Term Business Plan, creating value across the entire value chain helps us aim to achieve a sustainable business, society, and our vision.
Value Creation Process

Value Creation Story
S&B Foods Sustainability
Sustainability Promotion Framework
At S&B Foods, the "Sustainability Committee" heled by the President is convened twice per year in order to promote ESG management.
The committee also includes the Environment Group, Sustainable Product Development Group, Sustainable Procurement Promotion Group, and the Engagement Promotion Group. These four organizations help set, monitor the progress, and evaluate the accomplishment of ESG-related goals.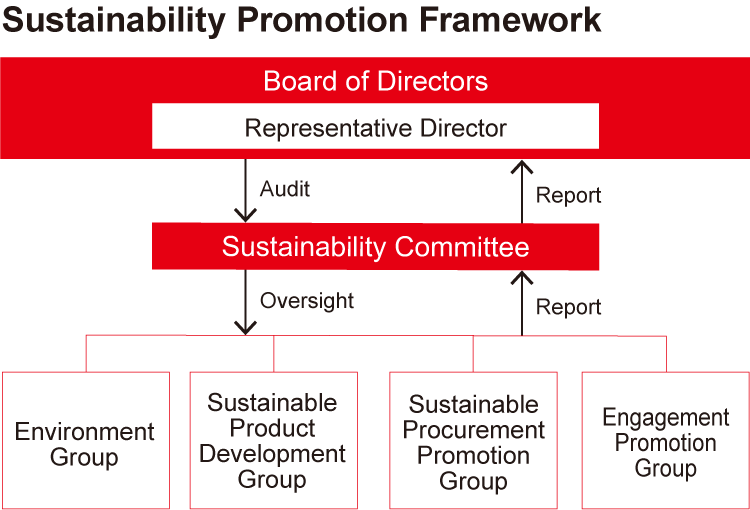 Materiality Identification Process
With the cooperation of outside experts, we have comprehensively selected social issues relevant to the food industry, evaluating their importance by having internal and external stakeholders answer questionnaires.
Based on the results, we have identified issues that are highly important to S&B Foods as materiality (S&B Foods Mission).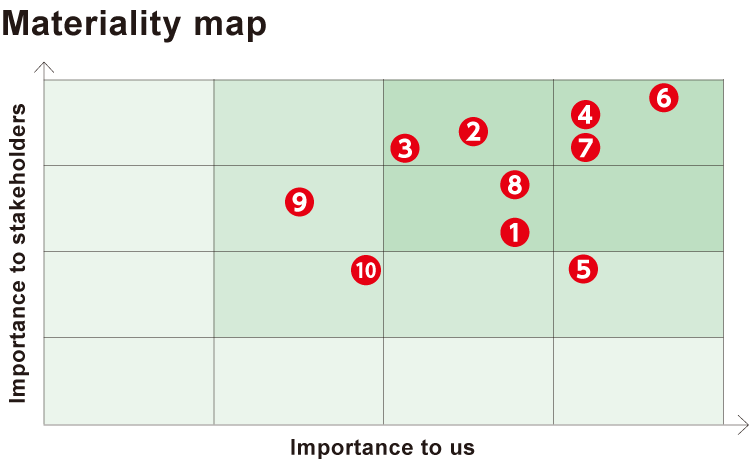 Relationship Between Identified Materiality and S&B Foods Mission
Materiality
S&B Foods Mission

1

Natural disaster risk (disaster prevention and support)

2

Global warming and climate change

3

Resource depletion

Reduce environmental impact

4

Food waste (loss) occurrence and increase

Socially and environmentally-minded product supply

5

Food shortages and agricultural decline due to climate change

Strengthen group-wide social/environmental management

6

Food safety and reliability (quality, etc.)

7

Food-related health risks (allergies, etc.)

8

Accommodating diversifying dietary needs (religious, faith, allergies, etc.)

Strengthen safety and reliability initiatives

9

Increasing poverty (unemployment, economic disparity, etc.)

Promote local and international interaction

10

Accommodating diversifying working styles (work and childrearing/long-term care, work from home, etc.)

Promote diversity
Relationship between Materiality identified and S&B Foods mission
S&B Foods Mission
Policy
Activity Theme
Fiscal Year 2021 Goals
Results
Evaluation
Fiscal Year 2022 Goals
Relevant Pages
Environmental load reduction
We plan and are engaged in achieving quantitative goals such as food waste recycling, reducing the final disposal volume of waste materials, achieving zero emissions, reducing greenhouse gas, and reducing the amount of water used.
Greenhouse gas (CO2) emissions

2% reduction in CO2 emission intensity compared to FY2020

5.2.% increase in CO2 emission intensity compared to FY2020

2% reduction in CO2 emission intensity compared to FY2021

Energy consumption

3% reduction in energy consumption intensity (crude oil equivalent) compared to FY2020

3.7% increase in energy consumption intensity (crude oil equivalent) compared to FY2020

3% reduction in energy consumption intensity (crude oil equivalent) compared to FY2021

Water consumption

2% reduction in water consumption intensity compared to FY2020

3.5% increase in water consumption intensity compared to FY2020

2% reduction in water consumption intensity compared to FY2021

Socially and environmentally-minded product supply
We are engaged in supplying socially and environmentally-minded products at each stage of development, procurement, production, and logistics.
Socially and environmentally-minded product supply

Promoting development of containers and packaging with resource conservation and recycling

Thinner cardboard material for some prepared spice paste and curry/stew sauce mix products

Promoting development of containers and packaging with resource conservation and recycling

Strengthen group-wide social/environmental management
We are engaged in group-wide improvement of social and environmental awareness by promoting social contribution, activities that reduce environmental load, and further employee education to put such ideas into practice.
Final disposal volume of waste materials

2% reduction compared to FY2020

9.3% increase compared to FY2020

2% reduction compared to FY2021

Strengthen safety and reliability initiatives
We endeavor to give customer satisfaction and reliability by improving safety and providing accurate, easy-to-understand product information in product development, procurement, and production.
Improving safety and providing accurate, easy-to-understand product information

Strengthen quality assurance framework

7 of our factories are FSSC22000 certified

Strengthen quality assurance framework

Promote local and international interaction
We are actively engaged in social contribution activities as one of its members by closely coordinating and cooperating with the local community.
Close communication with the local community

Cleaning and environmental activities 15 times or more annually

Social contribution activities such as supporting food banks and providing products to Children's Cafeterias in cooperation with the local community


Implementation of cleanup and environmental activities

Promote diversity
By incorporating diverse perspectives in our business activities, we actively work to develop an environment where a diverse range of personnel can independently participate so that we can deeply understand and respond to customer requests.
Promotion of women's empowerment
Workstyle transformation

Promote participation of diverse personnel
Promote workstyle transformation

53.6% of new graduate hires in FY2022 are women
Received "Platinum Kurumin" certification January 2021
Initiatives to establish "new work styles" (expanded work-from-home system, abolishment of core time in flex time system)

Promote participation of diverse personnel
Promote workstyle transformation
Evaluation key
| | |
| --- | --- |
| | Goal achievement rate of 100% or more |
| | Goal achievement rate of 80 to 99% |
| | Goal achievement rate of less than 80% |