S&B Foods operates an original quality assurance system that makes quality its top priority to ensure safe product manufacturing.
We also work on streamlining logistics and reducing environmental impact to safely deliver products from our factories to the customers.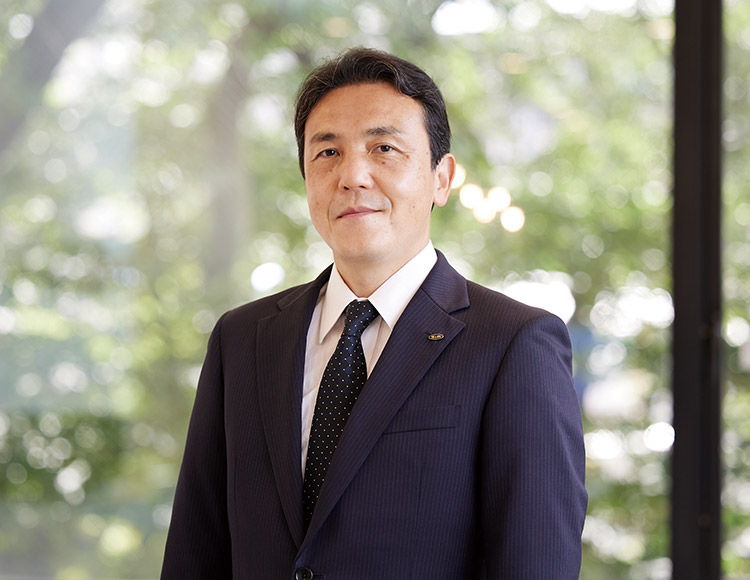 The supply division has been building a production and logistics system that stably supplies high-quality products at low costs with safety as the top priority.
We have established an optimal inventory management and a lot trace function by ensuring food safety with an international-standard management system and systematically coordinating procurement, production, and logistics based on demand forecasts.
We have also actively introduced AI and IoT technologies to achieve even higher efficiency and accuracy.
These will be further evolved alongside our sustainability initiatives, which is also imperative, in order to build up our capacity to respond to today's fast-paced environmental changes.
Executive Officer, General Manager of Manufacturing and Supply Division, Development and Manufacturing Group
Taiichiro Watanabe
Operating the quality assurance system
As a collaborative system linking product development, production management, and quality assurance divisions to ensure that safe, high-quality products are manufactured and delivered to customers, we have established and are operating the S&B Total Quality Assurance System (SQS), which combines and integrates the HACCP principles, quality management system requirements (ISO 9001), and food safety management system requirements (ISO 22000).
S&B Foods' and affiliated our own seven factories also operate on FSSC 22000, an internationally trusted scheme for food safety management systems.
Introducing IoT for transformation into smart factories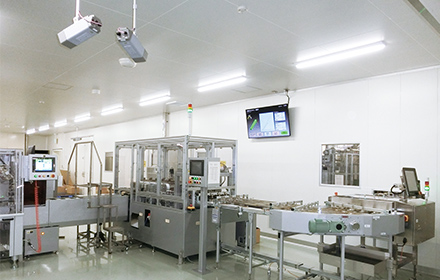 Production line with the equipment operation monitoring and management system
S&B Foods Group factories have introduced equipment operation monitoring and management systems to collect data from equipment in operation.
By analyzing the accumulated data, factories can detect signs of equipment problems and take improvement measures for each piece of equipment before the problem arises, thereby improving utilization rates and reliable operation for higher productivity.
Information management of production history
To ensure food safety in every process from ingredient procurement to production to distribution, S&B Foods operates an information management system to enhance product traceability.
We have also built the "Safety&weB" system, which enables timely product supply, inventory optimization, and product tracing. This system is contributing to higher efficiency of the development and production framework as well as safe product manufacturing.
Internal communication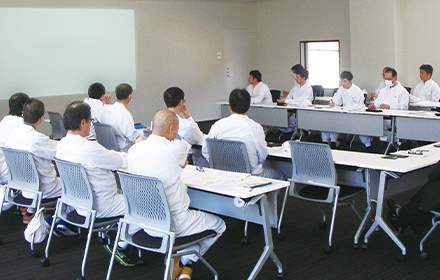 Quality assurance council meeting
Production members need to mutually understand the circumstances of others and together evolve safe product manufacturing while individually maintaining their autonomy in activities.
To this end, we encourage internal communication to facilitate coordination between divisions.
From a quality assurance perspective, a quality assurance council meeting is held regularly, gathering quality control representatives from the quality assurance division at the head office and from factories.
In this meeting, members share information such as customer feedback and safety measures taken at their respective factories, exchanging opinions on different issues.
Logistics that carry products safely
It is essential for logistics responsible for transporting products from the factories to stores to deliver the products safely without any damage.
S&B Foods validates the safety of logistics by conducting tests based on actual product transportation conditions.
Cardboard materials used for carrying the products are designed with a thickness and size that enables optimal loading patterns resistant to collapsing or falling, and are tested for strength to ensure higher safety during transportation and storage.
At the logistics center where products are temporarily stored and then distributed to different locations, a safe product shipping structure is established with an organized storage environment inside the center and specific, strict precautions for loading onto trucks.
Our traceability management is performed over a dedicated system that manages inspection and arrival/dispatch information of products stored, allowing for viewing dispatch history of product on a per lot basis.
Efforts for reducing environmental impact in logistics
Promoting modal shifts and streamlining logistics
To cut down CO2 emissions in logistics, S&B Foods has been working on shifting from vehicle-based land transportation to using railroads and ships—which are more eco-friendly—for transportation (modal shift).
While fiscal 2021 saw a drop in modal shift rate due to the increasing trend in the product volume proportion of short-distance transportation in contrast to the relatively shrinking product volume proportion of long-distance transportation, we will continue to work on reducing CO2 emissions by improving the loading efficiency for product transportation and furthering efficient delivery of ingredients and materials to factories.
Reducing CO₂ emissions by using lighter materials
The increase in the proportion of trucking in urban areas has led to a slight increase in CO2 emissions from transportation during fiscal 2021. We are continuing our endeavors in reducing CO2 emissions by using lighter materials for shipping the products.
Comparing with the same products, we achieved an annual reduction in material weight by 87 tons year-on-year for FY2021.
The greatest challenge in reducing transportation weight is ensuring package strength. The safety of product transportation is validated through compressive strength tests and storage tests.
We will continue our environmental efforts in logistics by adopting lighter packaging for an expanded range of products for FY2022.