In order to deliver truly satisfying products to our customers, we put ourselves in their shoes in efforts to develop better products.
We also analyze risk from various viewpoints in the pursuit of safe and reliable products with value.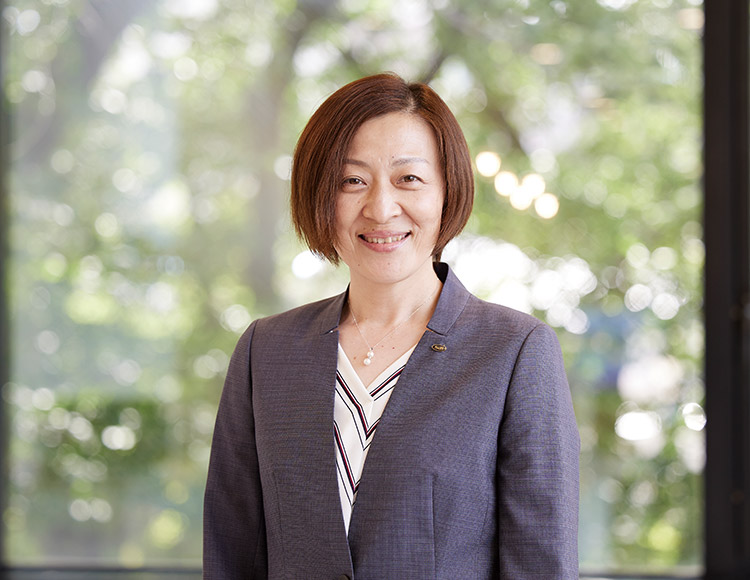 Basic policy of the Second Medium-Term Business Plan "To promote business that utilize the "Spice and Herb, the Earth's Blessing" as a core competence and aim to realize sustainable company and society." Not only to satisfy customers' needs, but also to consider the environment and contribute to society.
In 2023, we celebrate our 100th anniversary. We appreciate customers' loyalty over the past 100years, and we will continue to create new values through collaboration with external organizations and to develop products that satisfy customers for next 100years.
Executive Officer, In charge of Marketing Division.
Youko Oohisa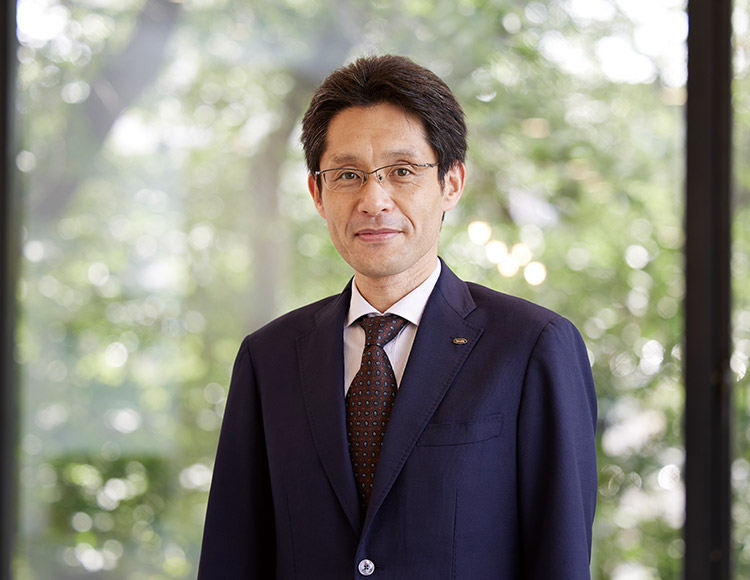 The COVID-19 pandemic that started in 2020 has drastically changed our lives.
However, this has also become an opportunity for us to take another look at our daily meals, including health, nutrition, and spending time with family, amid the "new normal."
Not to mention developing even more delicious and convenient products, we at the R&D Division continues to sincerely explore what we can do through everyday foods for the new values the customers are seeking—notably sustainability and well-being—and work on materializing our founding principle, "BI-MI-KYU-SIN" (In order to make our customers happy, we simply and straightforwardly pursue the "real taste".)
Executive Officer, General Manager of Research and Product Development Division, Development and Manufacturing Group.
Eiji Nakagawa
Customer-Oriented Product Development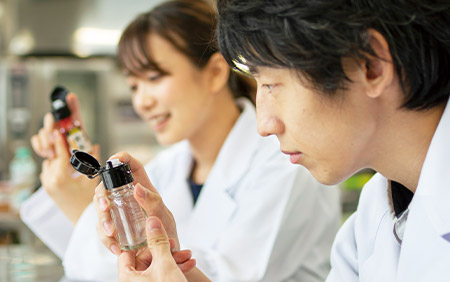 During the product planning stage, we always keep an eye on market changes and trends, basing product concepts on various types of surveys and analysis results so that we can meet the diverse needs of customers.
Use of monitoring surveys inside and outside the company and daily collaboration with our customer service center helps us decide on the final specifications of the product from the customer's viewpoint, including ease of use and easy-to-understand labeling.
During the product development stage, the entire process is integrated, including the pursuit of the best flavor via blending and manufacturing methods, the selection of safe and reliable ingredients and materials, deciding on the appropriate processing and production processes, and considering container and package designs.
By gathering feedback from customers and information on better ingredients and materials from clients after product development, we continuously consider product improvement, modification, and renewing.
Environmental Consideration in Product Development Tasks
In the Product Development Department, there is a project team that promotes the 3 R's (Reuse, Reduce, Recycle). During new product R&D and revising existing products, they always work with an eye to environmentally-minded product design and appropriate packaging.
During FY2021, the reduction in the weight of cardboard materials in some prepared spice pastes, curry/stew sauce mixes, ready-made sauces in pouches, pasta sauces, and fresh herb products helped save approximately 87 tons of packaging annually.
We are also eliminating the use of tapes for opening cardboard boxes and promoting revisions to proper size and using thinner plastics for product packaging, shrink wraps for ball formation, and product parts packaging films.
Collaborations with External Institutions
We conduct joint research with various corporate and academic institutions in order to create new value for our customers.
At the Central Research Institute, we engage in joint research with external sources on the themes of spice health functions, cultivation and breeding, as well as analysis and evaluation.
In January this year, S&B Foods confirmed jointly with Shinshu University that multiple spice and herb extracts are effective in suppressing influenza virus infection.
We are also conducting joint research with a number of other academic institutions to show scientific evidence of the health promoting effects of spices.
Product Development in Tune with Changes in the Social Environment
Products with food allergies in mind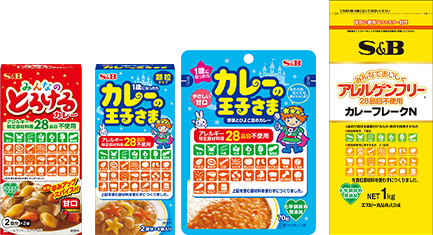 These products are made without using 28 items designated as allergy specific ingredients.
Products made without animal-derived ingredients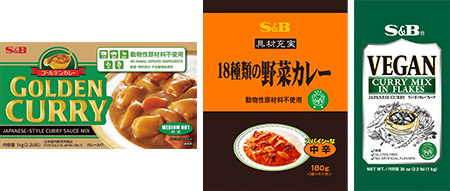 These products can be eaten by persons who cannot eat food with animal-derived products for various reasons.
Products designed for food loss reduction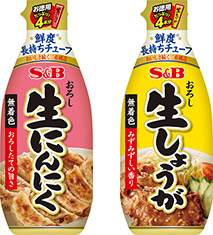 Various efforts, including improved product packaging, go into reducing food loss and reducing the impact on the environment.
A double-layered container design makes it difficult for the contents to be exposed to air, helping to retain fragrance and color and extending the best-before date by two months.