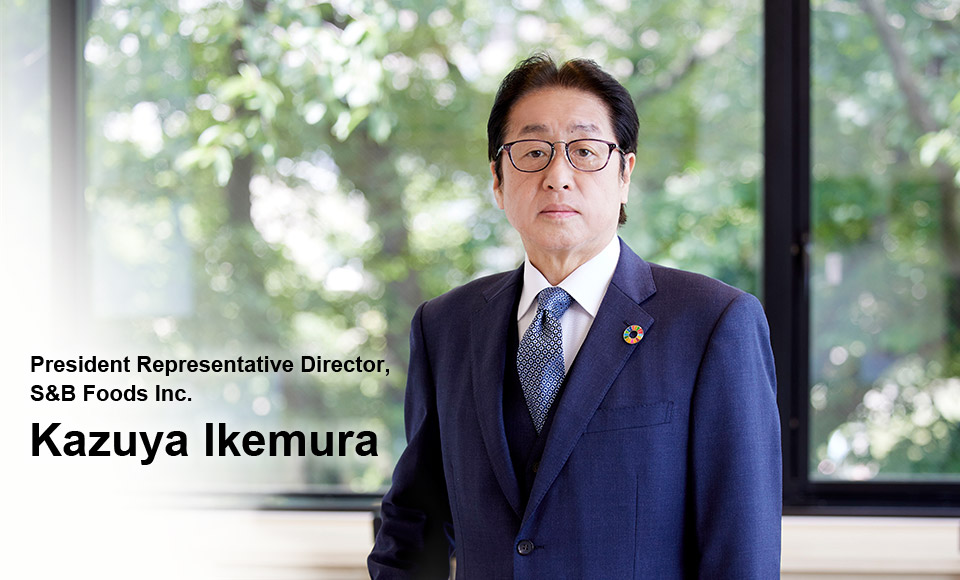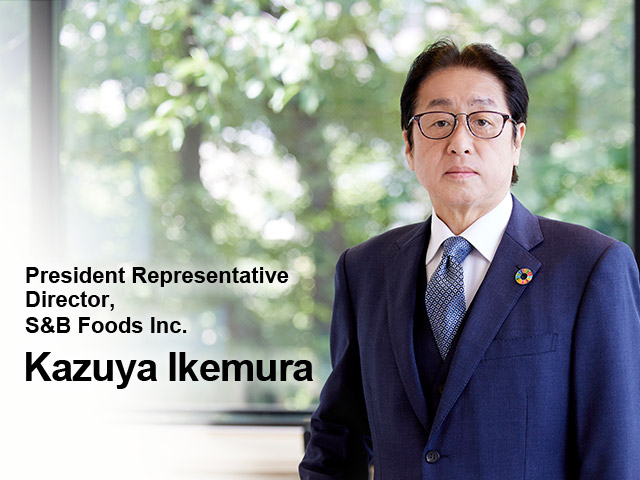 Introduction
I am Kazuya Ikemura and took post as President Representative Director in June 2022. I would like to take this opportunity to extend greetings to all our stakeholders.
Due to recent natural disasters and changes in economic and social conditions, the environment surrounding "food" is highly uncertain and difficult to predict.
Under these circumstances, I believe that it is my responsibility to take over the second medium-term management plan that we have been promoting since April 2020 and steer the company so that we can respond quickly to changes in the situation.
Upon assuming the post of president, I set out the company slogan "Be Essential!" ~To become a company and person that is needed in society~", with the hope that each and every one of our employees will be needed by society, not to mention by colleagues.
Under this slogan and S&B Foods Group's philosophy and vision, we aim to deliver happiness to customers' households and thereby contribute to the creation of an enriched society.
To that end, we devote our best efforts to become people and a company that is even more needed by society at large.
Our goals
Since our founder Minejiro Yamazaki became the first person to successfully manufacture curry powder in Japan in 1923, the S&B Foods Group has continued to deliver a variety of products to customers, including curries, peppers, wasabi, and other spices and condiments.
The role of "food" has been changing with changes of the times.
Our products not only make people smile with their deliciousness, but also respond to the diversification of lifestyles and healthy life. The value is wide-ranging, such as supporting a healthy life with the functionality of spices and herbs.
Today, we are phasing into the "with COVID-19" social environment.
In addition to tastiness and being easy and convenient, the increase in cooking opportunities at home during the COVID-19 pandemic has given rise to new values associated with food, such as the joy of cooking, excitement of discovering new flavors, and communication through food.
It is believed that this trend will further accelerate in the future. The S&B Foods Group is actively engaged in research and development, including product development, and marketing activities to meet these complicated and sophisticated needs.
As a leading manufacturer of spices, we will pursue the evolution and development of foods, including spices and herbs, deliver products with value, and contribute to achieving a sustainable society through our business.
A Look Back on FY2021 and the Second Medium-Term Business Plan Progress
During fiscal 2021, business conditions continued to be unclear due to heightened geopolitical risks in Ukraine in addition to the prolonged effects of the COVID-19 pandemic.
The food industry saw some recovery in restaurant demand while home cooking demand remained at a high level.
Such trends led to increased sales in both Retail and Foodservice products in our food business, but the increase in cost to sales ratio owing to higher ingredient costs pushed down our income, causing it to decline year-over-year.
The Second Medium-Term Business Plan sets forth the basic policy of "driving business under the core competence of 'Spice and Herb, the Earth's Blessing,' while aiming to achieve a sustainable business and society." Under this basic policy, our efforts are driven by key strategies and measures to achieve three objectives: "customer happiness," "employee happiness," and the "happiness of future generations."
As specific initiatives for these key measures, we sold "Harumi Kurihara's Cream Stew" and "Gourmet-done-easy" series as part of our powder sauce mix lineup—our added-value products—to expand and enrich our varieties. We also promoted value utilizing public transportation advertisings.
To bolster our health-promoting products, we also launched the Foods with Functional Claims, "Organic Kale Tablets" and "Spice Supplements" series.
Furthermore, in our joint research conducted with university and other research centers in order to deepen our scientific findings on the functionality of spices and herbs, we reported research results with Shinshu University.
Investment in our growing business segment is also steadily proceeding, including the incorporation of our European branch aimed at overseas business expansion.
Fiscal 2023 ending in March—the final year of the Business Plan—is expected to be another year operating in a harsh business environment with surging raw material and energy prices, but S&B Foods will continue to work on increasing sales and improving profitability.
Second Medium-Term Business Plan
(fiscal year 2020 - 2022)

Our Sustainability Initiatives
The S&B Foods Group identifies issues that are material to the Group through questionnaire surveys conducted on internal and external stakeholders, and positions them into the "S&B Foods Mission". Under this Mission, we aim to contribute to the attainment of the SDGs through business by supplying socially- and environmentally-minded products, reducing environmental impact, promoting diversity, and other activities in all phases of the value chain.
In promoting sustainability, we established the "S&B Foods Group Human Rights Policy" in October 2021 to respect the human rights of all people concerned with our business.
Additionally, to further enhance and deepen our efforts, we signed the "United Nations Global Compact" in February 2022.
The entire group is working together to preserve the natural environment of growing areas in ingredient procurement, to promote fair trade, and to achieve sustainable procurement.
Our sustainability efforts through direct communication with local suppliers and producers by specialized units were recognized and honored with a Grand Prize in the large enterprise category of the 22nd Green Purchasing Award in November 2021.
During R&D and product development, we put ourselves in the customer's shoes, ensuring that products are safe, reliable, and provide value, always keeping society and the environment in mind during the entire process..
To further strengthen safety and reliability, we also work to enhance our traceability system, and we continuously endeavor to improve the quality of work at production sites.
One key management strategy is "diversity management." In this regard, we continue to promote "new working styles," which involve unlimited work from home days and flex time with no core working hours.
We also received the Platinum Kurumin* certification in January 2021 and are continuing to provide a high level of child-rearing support.
We look forward to continuing efforts in helping each and every employee make full use of their skills and letting their personalities flourish.
Based on the executive officer system, the roles of board members and executive officers are clarified on corporate governance matters in order to speed up the decision-making process and business operations. Continued efforts are also under way to improve the effectiveness of the board of directors while quickly and precisely adapting to changing business environments.
In addition to enhancing the internal control system that spans the entire S&B Foods group, we have established the "Risk Management Committee" which is the main body that deals with the various risks inherent in business activities and continues to strengthen the management framework.
---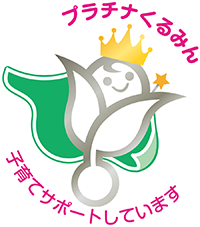 * "Platinum Kurumin" is a mark that can be used by those Kurumin-certified companies that have made even higher standards of efforts and have been specially certified by the Minister of Health, Labor and Welfare (delegated to the director of the Prefectural Labor Bureau) as an excellent company that supports childcare.
Aiming for Sustainable Growth and Higher Corporate Value
The year 2023 marks the 100th anniversary of S&B Foods. Within S&B Foods, a cross-divisional project team is taking initiative in preparing for anniversary programs, through which we seek to improve our organizational strength and branding.
We will constantly evolve our core competence 'Spice and Herb, the Earth's Blessing' and bolster our R&D, product development, and marketing activities from the customers' point of view to ensure S&B Foods Group's sustainable growth and improve our corporate value.
We will continue our business endeavors with the goal of being trusted and chosen by all of our stakeholders, including customers, shareholders, business partners, the local community, and our employees.
We look forward to your continued understanding and support.