Thorough Compliance
S&B Foods maintains the "Employee Standards of Conduct" that clarifies the sound, ethical behavior required of our employees.
This ensures thorough compliance with each individual employee, enhancing the self-correcting capacity of the organization and helping us to continue the pursuit of gaining society's trust.
In order to raise awareness of compliance across the entire S&B Foods Group, the "Compliance Group" takes the lead as a cross-sectional organization. Also, when joining the company, employees receive training on various themes established in the "Employee Standards of Conduct" such as fair, transparent, appropriate transactions and respect for human rights and diversity, with posters and e-learning courses providing further education.
The "S&B Hotline" is available for employee consultations, reporting, and questions, allowing for quick identification and correction of any fraudulent behavior as well as protection of the informant.
Proper Information Handling
Various in-house regulations, beginning with the "Company Information Handling Regulations," have been established to ensure disclosure and protection of information, and efficient use of in-house information assets.
We also have rules and frameworks for proper information handling, such as personal information and social media policies.
These rules and regulations are made known through employee training in order to ensure information security.
Risk Countermeasures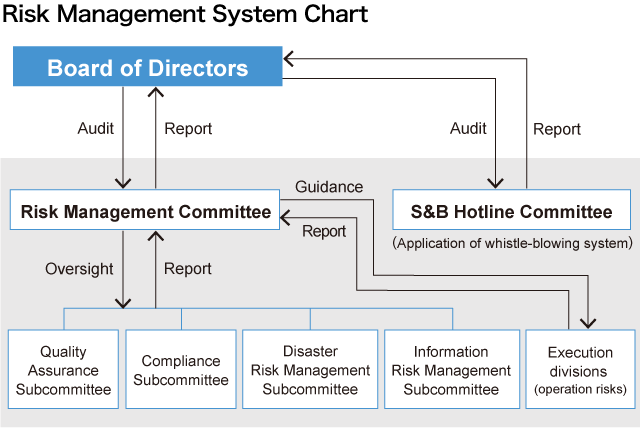 In order to fulfill our social obligations, S&B Foods has developed a framework in preparation for the various risks inherent in our business activities.
The "Basic Risk Management Regulations" and various manuals have been established in order to avoid and mitigate risks that could have a serious impact on our business.
For risks that require cross-departmental handling, expert groups are established depending on the type of risk, taking the lead in formulating countermeasures.
Also, the "Risk Management Committee," which oversees the expert groups, works to ensure proper operation of and strengthen the risk management framework by receiving reports from each group as needed, and periodically reports to the board of directors.
The expert groups take efforts to prepare in advance, regularly conducting training exercises with risks in mind and offering e-learning courses for employees so that the company can quickly and appropriately handle unforeseen circumstances.
Main Risks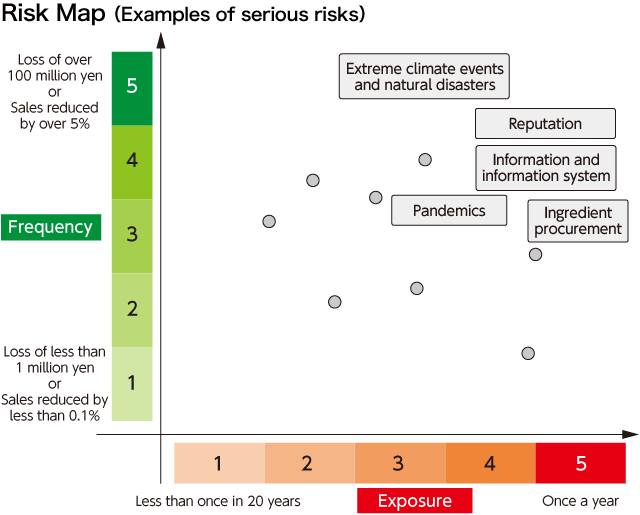 S&B Foods identifies main risks based on the priority order determined by the Risk Management Committee using risk exposure and frequency.
The risks identified are continuously reviewed and revised as necessary according to changes in the social climate.
Not to mention changes in market environment, we also cover identified major risks related to reputation, information and information system, pandemics, and other aspects.
In particular, natural disasters caused by extreme climate events, as well as ingredient procurement risks, are recognized as serious risks, to which we take responses in accordance with the TCFD recommendations.